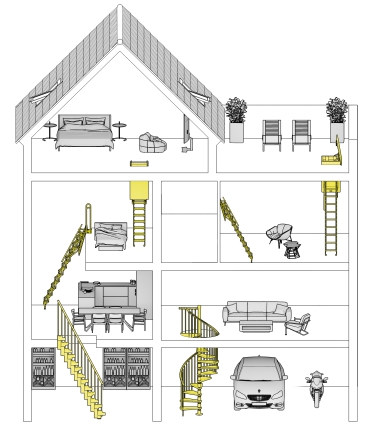 Scari Scale produces
loft ladders and kit stair ideal for accessing reduced spaces in the home
.
Our loft ladders product range includes loft ladders for attics and mezzanines, flat roof access loft ladders and vertical wall access loft ladders.
Given the innovative nature of our production, we developed an exclusive electric and insulated scissor loft ladder (Motora) which can be opened and closed in few seconds without any effort whatsoever. Moreover, it offers high performance with energy savings.
We can also make made-to-measure loft ladders for any particular size requirements.
The desire to offer an ever more complete range able to satisfy the most diverse customers needs has prompted us to broaden our production, introducing new indoor staircases: Roll spiral staircase and Micro space saving staircase.
All our retractable ladders are Made in Italy and certified according to UNI EN 14975:2007, which guarantees their solidity and reliability over time. Installation is quick and easy.
The materials used are carefully selected to meet our high quality standards, fully respecting the health of those who live in the house.