Mezzanine access loft ladder made up from 11 embossed sheet steel treads and a mobile structure with cushioning and recall springs that make the opening and closing of the stair easy.
To help you ascend and descend, there are a telescopic handrail on the right-hand side and two handles at the exit in round tubular (30 mm of diameter) and 1 meter of height.
The hatch panel  is made of a prime poplar plywood panel (15 mm thickness) certified with minimum formaldehyde emissions (class E1 UNI EN 13986:2005 standard).
The mezzanine access loft ladder is certified according to European Norms (UNI EN 14975:2007) and grant a load capacity of 150 kg (tested with static test load of 260 kg).
The vertical loft ladder is delivered fully assembled, ready to be installed.
Accessories
Left-hand side handrail
pannello bianco
Components list

15/10 embossed sheet steel protected by electrogalvanisation
Prime poplar plywood with thickness of 15 mm with reinforcement angle brackets
Bolted levers for easy adjustment
Shock-absorbing springs for easy opening and closing
Hatch anchorage plate (6x210x700 mm) to be fixed to the loft (6 x Ø 8 mm holes)
Right-hand side telescopic handrail
Galvanised steel exit handles (diameter 30 mm height 1000 mm)
Non-slip shaped tread
Support feet
Opening pole
Technical specifications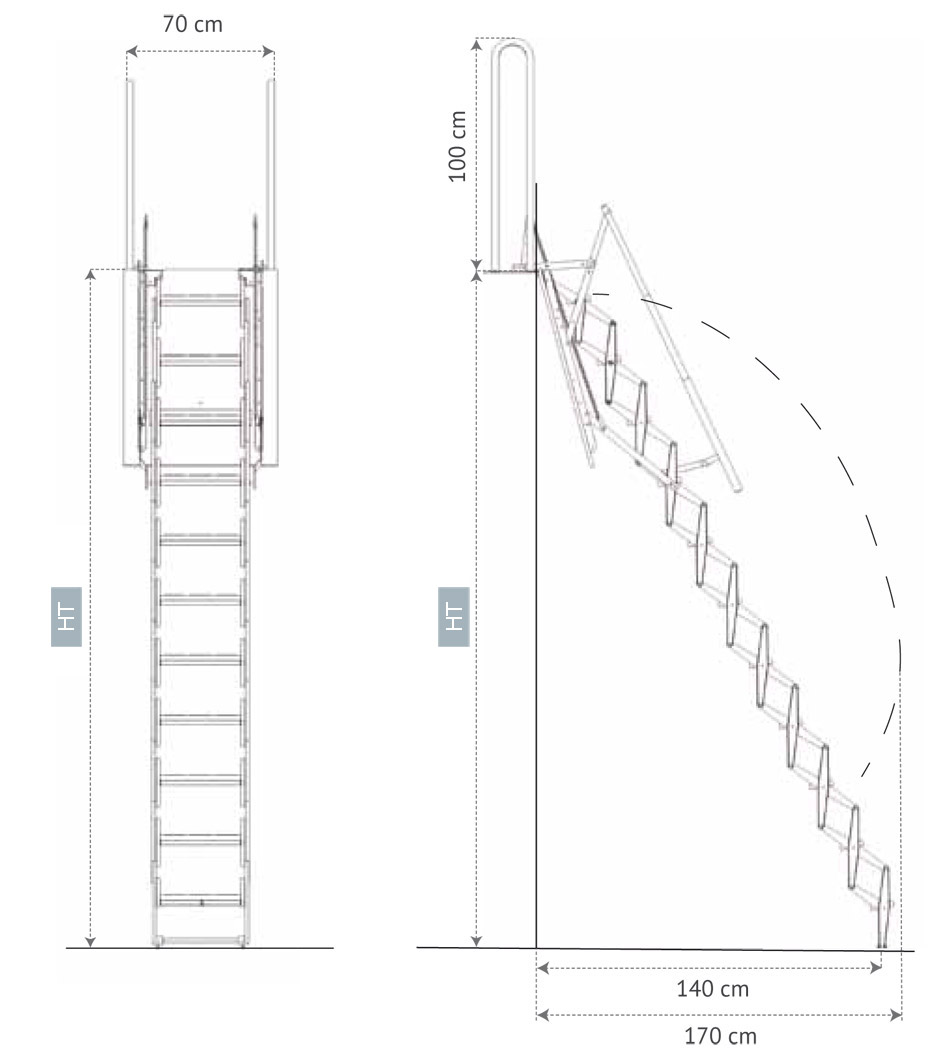 Dimensions

Misure disponibili - measurements available - dimensions disponibles - medidas disponibles

Tutte le misure sono in cm - All dimensions are in cm
Toutes les mesures sont en cm - Todas las medidas son en cm.